Does Timpview Have a New Rival After 44 Years?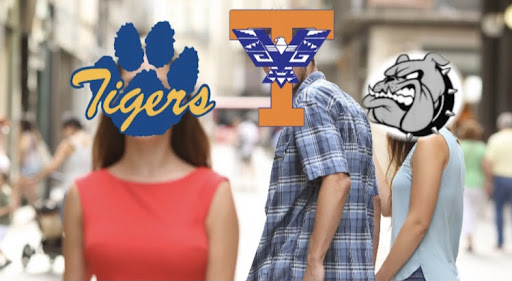 Everybody knows that a T-bird's favorite dish is bulldog meat. But is it possible that, after 44 years, we've developed a more refined taste for Tiger's blood? Earlier this August, Provo High School's head coach informed us that they no longer wish to play us in football as it has had a negative effect on their season. While we fully support and respect their decision to do what is best for their team, this has left many T-bird's wondering: What about the rivalry game?
Football season is a big deal for all high schools, but especially Timpview High. It can easily be said that the two most important games of the season are the homecoming game and the rivalry game. Members from every grade, clique, and every level of school spirit come together, decked out in orange, blue and white, to cheer on our team. Between the roar of the crowd and the crashing of cymbals and drums, it doesn't matter if you know or even care what's going on– you can't help but feel that pure adrenaline coursing through your veins. That surge of energy you get every time they make a touchdown is matched only by the overwhelming sense of school pride, when at the end of the fourth quarter, we emerge victorious. Sweaty and exhausted, both on the field and in the bleachers, Thunderbirds have continued to prove that Provo, Utah is Timpview territory. This moment has been a hallmark for Timpview alumni for the past 32 years.  
Needless to say the student body was not particularly happy with the news that they would not get to experience this momentous, and all too familiar, moment this year . When asked what the effect of not playing Provo had on the football team, quarterback Taylor Malo stated that "To be honest, I don't think playing provo would've bettered or worsened our team spirit. Over the past 2-3 years I think the rivalry is pretty much over. I would much rather consider Orem to be a bigger rival compared to Provo." For the past two years we've not only qualified for state, We've fought our way, tooth and nail, to the very top; The state championship game. Both of the years we've gone up against the Orem golden tigers, we've suffered brutal defeats. It's easy to see why the team's hatred would turn northward towards Orem High School. 
But a rivalry doesn't just start because one team hates another. When asked about a potential new rivalry, Coach Andy Stokes told our interviewing staff, "There is always potential for new rivals. Rivalries are created through long periods of time sharing some mutual boundary, divisions and respect. It is possible to create new rivals when both teams share the same space for long periods of time. Although the Orem game is fun, It would take many more years of competition to develop a true rival." And it's true, a rival can't just spring up overnight. We've  shared the field in every sport, we've shared our boundaries, and we've even shared one of our school colors for the past 44 years. So would it really be so out of the blue to consider them our new rival?
It's true that we will not be holding a rivalry game this school year, but who really knows what the future has in store? Is it time to say goodbye to our old foes to the west, or are they going to surprise us all with a bulldog comeback? The best we can do this year is cheer on our team no matter who they play, and keep our T-bird spirit up. Provo, Utah is and always will be Timpview territory. The only thing up for debate is what's on the menu: leftover bulldog, or tiger's blood?