Super Smash Bros Tournament At Timp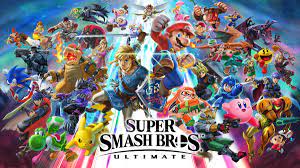 Have you gotten bored of beating all your friends and family at Super Smash Bros. Ultimate for the Nintendo Switch? Are you trying to find real challengers in a serious, competitive setting? 
On Friday, May 6th at 12:30, join the Timpview eSports club in the I Lab (I-18) with Dr. Gabbitas and compete in a tournament with some of the school's strongest competitors who will give you a run for your money! We hope to provide you with a fun time, a welcoming atmosphere, and a good fight if you choose to come! 
INFORMATION IF YOU DO PLAN ON COMING:
If you want to stay updated on what's happening, here is the Timpview eSports Discord Server: https://discord.gg/xVEVduA8bj
We will be doing pre-tournament sign-ups online and on-the-spot sign-ups. Here is the link to sign up if you want to sign up early: https://challonge.com/timp2022
If you aren't totally sure if you'll be able to actually come, still sign up anyway! It won't be a problem if you sign up and end up not being able to show up.
Please bring your own controller! We cannot confirm if there will be extra controllers to be used, so try to bring your own.
Full setups are appreciated!! (A full setup consists of a Nintendo Switch, a Nintendo Switch Dock, a power cord, and if possible an HDMI cord although some will be provided, Super Smash Bros Ultimate, all additional DLC characters, and a GameCube Controller Adapter if possible.) 
Please have a ruleset made before the tournament consisting of these rules:
3 Stocks
7 Minutes
Final Smash Meter: Off
Spirits: Off
Damage Handicap: Off
Items: Off and None
Stage Hazards: Off
Stage Morph: Off
Team Attack: On
Launch Rate: 1.0x
Underdog boost: Off
Score Display: Off
% Show Damage: Yes
Custom Balance: Off
Stage Striking will be a best of 1 rock paper scissors game, the winner striking one of the starter stages first, the loser striking 2 after that, and then the winner picking the stage.
Stage Banning will be after each game, the winner will choose 2 stages to ban. The loser will then counter-pick to any stage on both the starter stages and counter-pick stages.
Stage List
Starter Stages (Stages that can be chosen on the first game of the set)
Battlefield

Final Destination

Town & City

Pokémon Stadium 2

Smashville
Counterpick Stages (Stages that can ONLY be chosen by the loser of the previous game)
Kalos Pokémon League

Small Battlefield