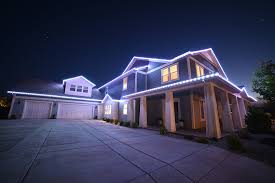 Christmas is coming around again and people are already starting to put up Christmas decorations. One of the most popular decorations for this time of year is Christmas lights. On Christmas trees, wrapped around shrubbery, on houses, and on massive displays at parks. People love these lights, but how energy efficient are they? How are they negatively impacting the environment and how can we use less energy this year and in years to come? Is there a better option for lights this year?
Every year, the US uses 6.63 billion kilowatt-hours of electricity for Christmas/holiday lights. That's enough to power fourteen million refrigerators. This is a lot of energy, so how can we use less, while benefitting the earth and our wallets? One of the best options is to switch to LED lights. There are many benefits. Firstly, they use less energy. Energyrates.ca states, "LED Christmas lights consume between 80 and 90 per cent less energy than their incandescent counterparts, and they last more than three times the lifespan of your incandescent strand. Compared to 3,000 hours, LED Christmas lights last up to 100,000 hours, and they are a lot less fragile (and less dangerous) too." LED lights also have a cooler running temperature than incandescent lights, making them less of a fire risk. LEDs are sturdy as well, while incandescent lights break more easily. Giving us another reason why they are safer than traditional, energy-consuming incandescent lights. However, LED lights are more expensive, but they will cost less in the long run when you add up the power bill at the end of the holidays. LEDs also come in more shapes and designs, some even have remotes and or apps you can control them with. LED lights are easier to store, not needing the tedious wrapping and care that fragile glass lights do. LED lights will also work more efficiently in the cold versus incandescent bulbs. Overall, LED lights are becoming the future and are helping the environment. Traditional lights may have more memories, but when keeping the environment in mind, it is better sometimes to ditch tradition and go with more ethical and eco-friendly options. 
   So, enjoy the holidays, spend time with people you love, decorate if you wish, and most of all, save money, and the environment.