Is BeReal Still In?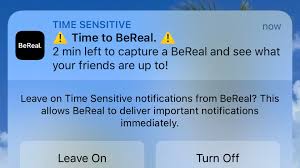 Is BeReal still a current craze? You may have noticed many students and even a few teachers taking out their phones at random times of the day while shouting "It's time to BeReal!" BeReal is a current social media app that many teens are using. An app to destigmatize social media by showing your real life at a different time each day. We wanted to find out if this app is still in or if it's out. To do this we interviewed many Timpview students to see their thoughts on this topic.
We interviewed 3 of our fellow Timpview students, Tessa Cottle, Sierra Roberts, and Hannah Grunander, all of whom have used BeReal at some point.
Tessa used to use BeReal but quickly stopped using the app, "the app is a good idea, but it's better in the summer," she also pointed out that "people with no life use it."
She argued that the app died. Another of our students, Sierra, a current user of BeReal, claimed that "the app hasn't died but some people like it more," she went on to say that. "it doesn't have the aspects of other apps like Instagram, which makes it a good app."
Our final source, Hannah Grunander is also a frequent user of BeReal, and she argues that it's a dumb app and "many people don't use the app for its intended use." She also believes that the app was more popular in the summer, and has decreased usage while the school year has gone on.
In summary, many can agree that the app is dying if not already dead, and it's time to find a new app to craze about. What do you think the next trend will be? And will it die quickly?