Here We Go Again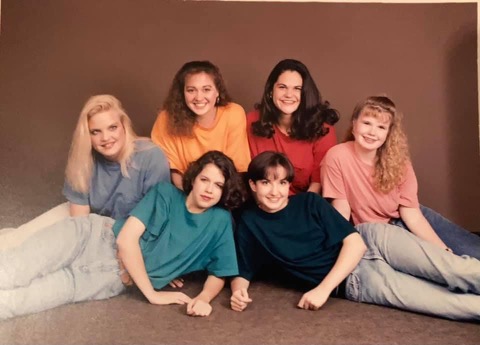 Hit me Baby one More Time! The 90s have never really been out of style, but in today's world, we are seeing some of the current popular clothing trends, which are very similar to the 90's style. From Doc Martens to crop tops, the revival of trends is continuing to grow. The 90's as we know it was the start of a never-ending clothing era. Magazines, Celebrities, and even some Timpview faculty, and students agree that the growth of trends is increasing, and is continuing to grow, and becoming more popular.
Teen Vogue, Fashion Week Daily, Seventeen, and even the Insider are all sources, and examples of the comeback of 90's styles. Magazines, although not as popular among the younger generations, were very popular in the 2000s, and so on. Some of the current popular magazines are showing interest in the revival of styles. Seventeen, a popular magazine from a few years ago suggests that "lots of your current favorite trends were actually born in the '90s and you might not have even known it. 2022 staples like leather blazers, mom jeans, vest tops, and varsity jackets were faves for your parents' generation and now they can live in your closet, too." Not just these classic staples, but also in addition Doc Martens, overalls, layering clothing, Converse, Birkenstocks, and puffer vest were also staples in the '90s. All staples that you can see in high schools all around the world today.
Celebrities are a significant source of inspiration for teenagers, and celebrities are also following up with current-day trends. The spread of the movements can come from anywhere, but having a larger influence, being an icon, and having a large following on social media can be impactful in the spread. Many popular celebrities among high school students such as Emma Chamberlain, Benson Boone, Conan Gray, Jules Leblanc, Clairo Cottrill, Claire Rosinkranz, and Harry Styles are all examples of people who are wearing the 90's styles. Because many, many people look up to celebrities for inspiration, it's obvious that eventually, fans would follow after their favorite celebrities. 
I wanted to get more opinions on this recent spread of trends, so I went to the wise, Ms. Baker. She said because "There [are] only so many things that you can do with clothing, so I'm sure we can see things that would recur like we've seen this before with the 80 resurgences." Trends cycle, so it's not surprising that the 90s are cycling through at the moment. "some things are short-lived, but a trend fades through the country, and so it slowly fades in or out" but how long do we think these trends will last? Ms. Baker mentioned that "[She] was the oldest so [she] did not have hand-me-downs, but [she would often wear] what other people were wearing. [Because she] didn't have social media so [she] couldn't see what was popular. So [her] peers often guided [her] in what [she] would wear."
I asked one of Timpview's favorite students, Evelynn Bigelow, if she wouldn't mind sharing her opinion on this as well. She felt that people often "like to look back on eras that they were not a part of, because it's "vintage", even though it wasn't that long ago." Evelynn, along with many other teenagers, gets a lot of her inspiration from celebrities, Pinterest, and also her peers. 
How long will this 90's resurgence last? What might the next clothing trends be, and will they be trends that we have already seen before? All questions we might have to ask ourselves. What do you think, do you like this current 90's style, or do you wish it stayed in the past?