The Debate on Bears Ears
Elisabeth Facer
January 18, 2018
The New York Times, CNN, NBC Radio, Fox News and dozens of other news stations have broadcasted or published articles regarding President Donald J. Trump's decision to reduce the size of Bears Ears and Grand Staircase Escalante national monuments. This news, especially for Utans, is almost inescapable. What the media has not captured is the raw emotions and opinions of those who it affects the most.
Consider first what the announcement really accomplishes. In his announcement, "It's time to end these abuses and return control to the people, the people of Utah, the people of all of the states, the people of the United States," President Trump said in his official announcement and signing of the presidential proclamations reducing the monuments.
However, President Trump's statement of returning land to the people is not what the majority of U.S. citizens want. According to a 2016 study from the Harvard Kennedy School of Government, 96% of participants wish for national parks and monuments to be preserved for future generations. In returning the land to the people, these former national monuments can now be leased out to corporations by the state for mining, drilling, and destruction, None of these forms of use will protect the land in its natural beauty.
The real controversy of President Trump's decision arises when looking at what voices were ignored and the reasoning behind those voices. We had the opportunity to speak with University of Utah Biology Research Associate Professor Victoria Rowntree over the subject of President Trump's decision regarding the national monuments. We met Rowntree at the Bears Ears protest on Capitol Hill on Dec 4. Rowntree is a women of science and has traveled to Argentina for many years studying and counting whale populations. She is passionate about the environment and believes Trump is making a monumental mistake.
"I think the president has no appreciation for the natural world. He lives in a plastic world in a hotel, I mean I'm sure he goes out to the golf courses, but he doesn't know what [nature] is and I'm not sure he has the soul to appreciate what happens when you're in a wild place; when there's no other people around you and it goes on into the distance. It's incredible solace for the soul and peace of mind, and pulling yourself together," Rowntree said.
For many Bears Ears and Grand Staircase Escalante are places to explore the vast and never ending wilderness of southern Utah. Bears Ears is known for amazing crack climbing and known to others for the beauty of unexplored desert.
"Every time you would go around a corner and there's a different shade, or even just how the rocks are, there's a whole different vegetation there and the a mixture of the red and the gray rocks that are down there, it's peaceful," Rowntree said as she described her own time outdoors, in southern Utah specifically.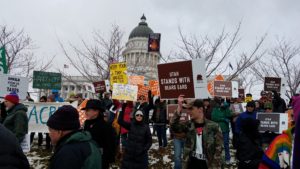 In fact, southern Utah is so famed for its recreational diversity, beauty, and inclusion that two multi-million dollar companies are speaking out against the president's decision to reduce the monuments. The outdoor clothing company Patagonia has a firm stance in the debate about Bears ears. For a few weeks after the president's decision, if you visited Patagonia's website you would be faced with a solid black screen and in white print the statement, "The President Stole Your Land," and underneath much smaller, "In an illegal move, the president just reduced the size of Bears Ears and Grand Staircase-Escalante National Monuments. This is the largest elimination of protected land in American history." Patagonia's website aids people in exploring and connecting with the beauty and culture associated with Bears Earth thorough virtual tours of the land. By providing these virtual tours they are trying to get people involved in the protection of Bears Ears.
Patagonia isn't the only company to be standing up against President Trump. REI is also taking a stand. REI said, "At REI, we are unwavering in our nonpartisan commitment to public lands—to protecting this nation's spectacular natural places—the mountains, deserts, prairies, waters and forests that tens of millions of Americans from all backgrounds cherish and enjoy annually."
Hikers and climbers are not the only people who cherish the original boundaries of Bears Ears national monument, the indigenous tribes of the area are also fighting for its protection. The five native American tribes from that area are the Navajo Nation, Ute Indian Tribe, Ute Mountain Ute Tribe, Hopi Tribe, and Zuni Tribe. These groups are suing the president, secretary of the interior Ryan Zinke, acting Director of the Bureau of Land Management Brian Steed, secretary of agriculture Sonny Perdue, and Tony Tooke, chief of the U.S. forest service.
In the lawsuit, the tribes state that President Trump is illegally removing protection for lands in Bears Ears National Monument. They believe the president's actions are unlawful because of the Antiquities Act.
The Antiquities Act was passed by Congress and signed into law by Theodore Roosevelt in 1906 with the purpose of giving the Federal Government a quick way to preserve small amounts of land with archaeological importance. The Antiquities Act does not give any president the power to remove national monuments. Apparently, Trump considers the creation of Bears Ears an abuse of the act, as Bears Ears is over 100,000 acres. Trump rallied several Utah political supporters to aid him in "returning the land to the people", and was influenced by mining mills such as the Colorado-based Energy Fuels Resources who fear that Bears Ears would get in the way of their uranium excavation. By reducing Bears Ears by 85% and Grand Staircase by nearly 46%, President Trump is opening up land for new developmental possibilities, but as a consequence taking sacred historical, native lands and reducing tourist and recreational areas. The president essentially killed Bears Ears National Monument and created two new small national monuments. These smaller units called Indian Creek unit and Shash Jáa unit.
Bears Ears was initially established as a national monument in 2016 by President Barack Obama under the Antiquities Act and Grand Staircase Escalante was established in 1996 by President Bill Clinton using the Antiquities Act as well. When President Obama created Bears Ears National Monument it was considered a big success for the tribes. Many Native American cultures have land-based religions. Not only is this land sacred to them but this land has been used, and is still being used for worship.
In regards to the sacredness of Bears Ears land the tribes' lawsuit says: "Bears Ears contains hundreds of thousands of objects of historic and scientific importance, many traditional cultural properties, and many sacred sites. Plaintiff Tribes in particular continue regularly to use Bears Ears to: collect plants, minerals, objects and water for religious and cultural ceremonies and medicinal purposes; hunt, fish and gather; provide offerings at archaeological sites; and conduct ceremonies on the land. In fact, Bears Ears is so culturally and spiritually significant that some ceremonies use items that can only be harvested from Bears Ears."
On the other side of this issue, are the people who live in the surrounding area of San Juan county, where Bears Ears is located. Along center street in Monticello, Utah (about 60 miles south east of Moab) nearly every store has a vinyl sticker in the window. The sticker is in the shape of a bear and inside the bear it says, "#no monument."
The locals believe that Obama created Bears Ears national monument because he was pressured into this decision by extreme environmentalists and out of state native american leaders. According to the Sutherland Institute, a conservative group based in Salt Lake City that wants to rescind Bears Ears, "This decision was not about sensible land management policy or the well-being of locals whose culture and livelihood depend on public lands."
While these locals make claims about wanting to protect the land and keep the land public, they have a different definition of "protect" and "public." Basically the locals don't want change. The people of San Juan county have been using the land for recreational activities like dirt biking and four wheeling. They have also been using the land for grazing and hunting. The locals have been participating in these activities for their whole lives. The problem with this lack of motivation to change is that if places like Bears Ears are not protected, the destruction of them will be inevitable.
Although some lane will be less accessible for locals, With the protection of a national monument, "The Forest Service and BLM will continue to apply the laws, regulations and policies currently used in issuing and administering permits on public lands in the national monument," as they did before. Therefore, the land will still be accessible, and public.
What many politicians, and those who wish for public lands rather than a monument, do not acknowledge or care to understand is that in rescinding Bears Ears national monument and Grand Staircase Escalante they are decreasing natural beauties that once destroyed cannot be returned. While, corporational development is important for our economy, we should progressing forwards and looking for renewable and sustainable energy resources. And while four-wheeling and hunting can be fun activities passed down through families, this sacred land and it's century long history to the natives is something we cannot ignore and push to the side. Now that is has been stripped of its monumental title, the likelihood of the land being stripped of its archeological, biological, cultural significance will increase significantly.
The president took more than his share of this land; the fight to take it back continues.
Click HERE for videos from the protest.