A Substitute Sweethearts: Take it or Leave it
Bailey Morris
February 7, 2018
Some students at Timpview High School cringe at the idea of another school dance: the pressure to ask a date, find a group, the overall price. And that doesn't even take into account the new attendance policy this year, causing dozens of students to spend the few weeks before the dance sitting in hours of attendance school.
Sweethearts is exciting. And most students, despite the pressure, can't imagine doing anything else the night of February 17. So they either suck it up and pay the ticket prices and sit in attendance school, or they stay home. Well, to Austin Starbuck, a senior here at Timpview, there may be a better option.
"We're throwing our own Sweethearts," Starbuck said. "Me, Asher Smith, and Cameron Christensen got the idea a while back from Brody Olson. We did it because for a lot of the dances people's attendance isn't good, and they don't want to spend the 2 weeks leading up to the dance going to attendance school and then still end up having to pay these enormous prices for tickets. So, we decided to throw a dance at the Manor in Riverwoods, cheaper tickets and obviously no attendance policy because it's not part of the school."
Some people are curious, though, if this is an act of rebellion against the school. And if so, will this cause acts similar to this in years to come?
Lauren Osborn, Timpview's student body president, is not against finding ways to change things that need to be changed. However, her school spirit and excitement for Timpview's Sweethearts is spreading.
"Anyone has the right to plan a dance and anyone can plan a dance, but obviously when there's two dances in one night then sometimes that's hard to get people at both… We've had our two dances at Timpview so that we could do the other dances at bigger places, so this dance is going to be really cool. It's at Sleepy Ridge, a really nice place. It's going to be one of our coolest dances. I think the theme will fit perfectly with where it's at. We're really excited about that, so of course it will make us a little bit sad that there's a dance competing with us. Nothing against who is planning it."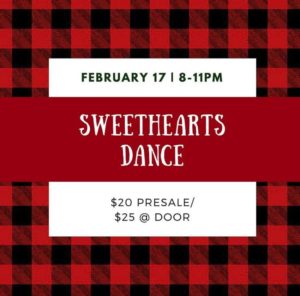 So what's your call? Is holding a school dance without the school involved disrespectful? Or is it a worthy replacement?
To get tickets for Timpiew's Sweethearts, pay $20 in the financial office. For more information go to http://timpview.provo.edu/.
For Starbuck's Sweethearts, text @acaparties to 81010, which will give you the link to buy tickets for $10.