Fire Burns Behind Timpview High School
Panic struck the Timpview community Friday night as smoke and ash filled the air. At approximately 8:01 PM, Friday, November 6th, the police received a phone call that a fire had started in the East field behind the school, and was quickly spreading up the hillside toward homes.
¨There were initially about five structures that could be threatened by this fire, with potential for about ten total if it spread out too far," said Jeanie Atherton, a Public Information Officer with Provo Fire and Rescue. The fire was about 20 feet by 20 feet when it was called in, but, because of the wind and extreme fire conditions, was slightly larger by the time the fire department arrived. Within an hour, the fire was under control, but the fire department continued to put out "hot-spots" later into the night. When asked if anything like this had happened before, Dr. Todd McKee, Assistant Superintendent for Secondary Schools in Provo School District, said, "not to this extent, this is probably as large as we've seen."
Timpview Drivers Ed Instructor, Gary Roylance, arrived at the scene ten minutes after the fire started. He pointed out some potential challenges that could have made this situation far worse. "Earlier today, this was a four-foot trench," he said, referring to a strip of asphalt that has been removed between the North student parking lot and the east parking lot during recent construction efforts. "With all the construction…it's just sheer luck that they filled that [in] before this happened." If the trench connecting the two parking lots had not been filled with dirt and gravel earlier that day, the fire department would have had a much more difficult time accessing the fire. "This [has] the very high potential for loss of property, and potentially life, depending on how fast the fire's moving and if people that are in the homes up above can actually evacuate," Atherton stated.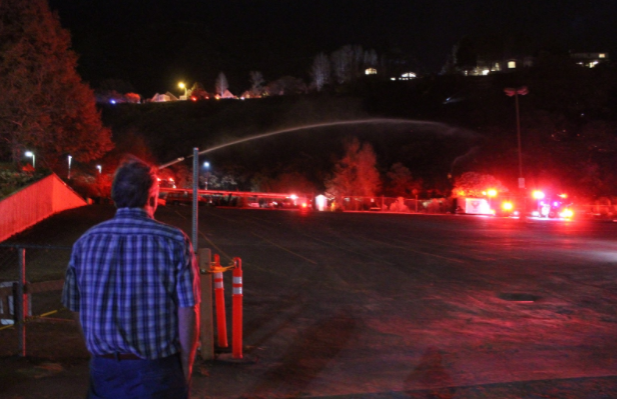 Groups of Timpview students and neighborhood families gathered outside the school to watch the fire and get more information. Attendees and cast of the school musical were forced to evacuate midway through their production, and the night custodial staff was sent home early. Atherton reported that 17 firefighters and every emergency apparatus in the city, with the exception of one ambulance, responded to the fire. Their rapid response and coordinated effort prevented the fire from becoming disastrous, as it appears that aside from the emotional toll, no permanent harm was done.
"A group of young boys had been lighting fireworks, and the fireworks got carried into the hillside," said Dr. Todd McKee. As of now, it appears that no damage was done to the school or school property, but the Provo Police and Fire Marshal are continuing their research before making a final determination.
An article published by the National Academy of Sciences in 2017 explained that between 1992 and 2012, 84% of wildfires were ignited by people. Fireworks and firecrackers have been illegal East of Timpview Drive for several years. Especially in drought years, when fire conditions are extreme, residents must take extra precautions to ensure the safety of the entire community. Speaking specifically to students, Atherton stated, "This fire season is not over…if you're going to have a fire, with these types of conditions going on, just make sure that your fire is always put out, and that you have a water source handy."
Leave a Comment