On the marsh of north-eastern Utah Lake lies an establishment so prestigious and fine it has been in operation for over 20 years. The classic combination of ghosts, clowns, and aromas of swamp complete the perfect spooky and festive atmosphere for Halloween. The catch? It's only scary if you're 12. 
Haunted Forest is a hotspot this time of year for people of all ages as they flock from nearby counties to attend the widely popular haunted house in Spanish Fork. It's an amalgamation of all types of scary characters with a wide variety of Jigsaws, Nuns, Cornfield people, and Jason Voorhees-type villains. The people are real, the line is long, and the dirt path is spookily lit.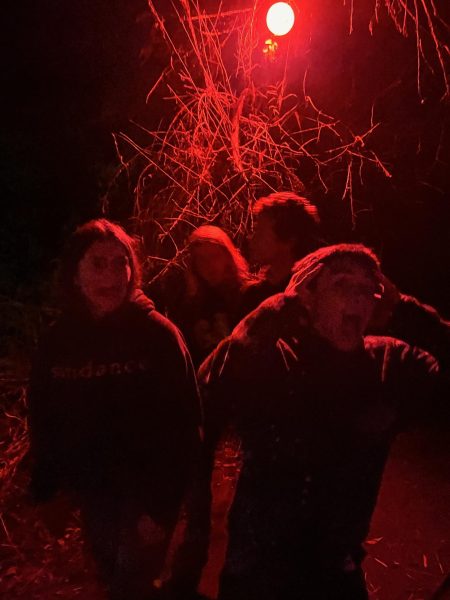 But while it has much to offer, you may not be getting the spook you anticipated.
To start, it's 25 minutes from Provo. You park in a field, but it's close, and parking is never really an issue. If you bought your ticket online, you just scan it, or if you need to buy one it's a simple window purchase. Prices are steep though; after fees and taxes it winds up being around $40 per person.
Whether it's a weeknight or a weekend, expect a long time in line to get in the house. It's always longer than advertised and on a weekend prepare for a nearly 2 hour wait. Considering the house is roughly 30 minutes, it's 1 minute in the house for every 4 minutes in line. They do offer an express pass for 7 dollars (and a 1 dollar card fee) which virtually sends you right to the front of the line, but what goes unseen is the value of hanging out with friends while you wait in line. 
The haunted house runs the same dirt path it has for years. You walk through a twisted dim light path that takes you through trailers, cornfields, prop buildings, and tunnels. People hide or stand at each post and scare you. Knives, heads, and chainsaws are all props that get thrown in your face, but it's a facade. Because they can't touch you, if you find yourselves unfazed by the noise, you render them disabled. All they can do is stand there and scream at you. And once you realize it is just another teenager with a mask on their face, you don't feel the fear you felt in 7th grade. It becomes an evening nature walk with the drama club and a date.
All I can recommend, is if you plan on spending $40 at the Haunted Forest, get your priorities straight. It isn't spooky or scary, but there is immense value in the line if you go with people. It's plenty of time to talk and laugh because that doesn't happen in the haunted house. The Haunted Forest is an excellent place to get some friends together and go be festive for the Halloween season. And just because you aren't scared, doesn't mean your date won't be.