To Pee or Not To Pee? That is The Question.
The State of The Bathrooms at Timpview Leaves Many Students Disgusted
Most Timpview alumni know our bathrooms are in the 2008 film "The Adventures of Food Boy." To be in such a prestigious film, they must have been selected as the perfect movie version of a school bathroom. Somewhere along the way, however, we fell from grace. What happened to our perfect bathrooms in the last 15 years? What do Timpview students think about them now?
We interviewed multiple Timpview students and asked their opinions on the bathroom situation. We compared the student's reports and opinions with Utah's construction requirements for school buildings. The results were… interesting.
Almost every student said that they were concerned about basic privacy. In the men's bathrooms especially there are no dividers on either side of the urinals. The state code doesn't say anything about urinal partitions, except in cases where there's more than one. This leads to situations like the I-wing where the urinals are right next to the sink. "I can pee and wash my hands at the same time," one anonymous commenter said.
Many students complained of stalls that don't have locks or have gaps that are too wide. The construction code states that the doors must "[enclose] the fixture to ensure privacy." A door without a lock most definitely doesn't ensure privacy. To cope with this, many girls have been using hair ties to cinch the doors closed. "
It's not all bad though. Many girls praised the feminine hygiene product dispensers. One interviewee noted that "…people forget to bring their own, or some people may not be able to afford their own."
The feminine hygiene dispensers have improved in recent years. In the past, they were expensive and usually empty. This year, however, the accessibility has gone way up because they're kept fully stocked and they're free. Many students said that this was their biggest issue and expressed extreme gratitude.
Another large concern is the cleanliness of the bathroom. Paper towels are everywhere. Scattered around the trash can, in the stalls, under the sinks, and frequently clogging the drains. Toilets are unflushed, sinks don't work, and you'd be hard-pressed to find any soap. However, most students are willing to acknowledge that it's not the administration's fault. The "devious licks" challenge encouraged people to steal soap dispensers, and people seem to find it funny (or too difficult) to throw paper towels away. The school is apparently trying its best to keep up with this, but it's still rare to find any soap. The state construction standard states that "Hand cleaning soap or detergent must be conveniently provided near each hand washing sink." Unfortunately, the school is mostly powerless to do this at the moment.
Do You Avoid Using the Bathrooms at School Because of Their Condition?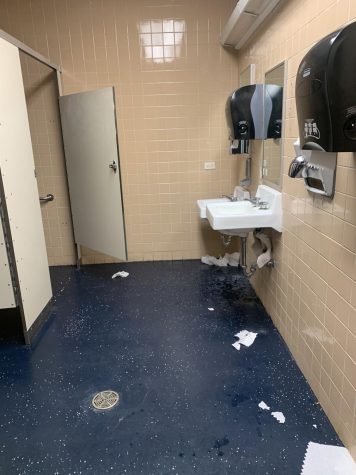 Sorry, there was an error loading this poll.
Everyone knows that Timpview is too small for the 2,300 students that go here, and bathroom accommodations suffer for it. We have nine student-accessible bathrooms for every single student at the school. The lines are often out the door during passing periods, but we're also not allowed to go in the first or last 20 minutes of class. Teachers usually skirt these rules, so no one really cares.
Apparently, there are "shrines" being set up in the lower industrial wing bathrooms. There have been three so far, done by @rico_queeze_shrines on Instagram. These have included Lin-Manuel Miranda, Shrek, and of course Eddie Munsen from stranger things. Rico, if you're reading this, we anxiously await more.
Everyone had a lot to say about our bathrooms but expressed that they're grateful for the privilege of an established bathroom at all. There's room for improvement for sure, but until we migrate to the new building we'll just have to make due. More soap would be nice.